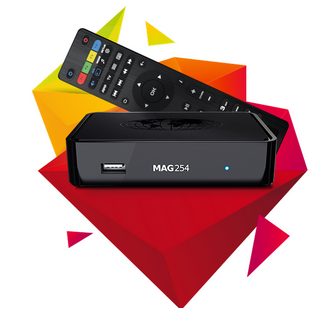 UK BRITISH IPTV TV UAE - WATCH UK TELEVISION IN UNITED ARAB EMIRATES -
MAG250 IPTV BOX
-
MAG254 IPTV BOX
UK TELEVISION BOX DUBAI UAE - UKTV ABU DHABI - BRITISH TV UNITED ARAB EMIRATES - MAG254 TVBOX - EXPAT TV UAE
We have been supplying world wide TV solutions since 2002, this started with installing large satellite dishes in Spain and France, we then started to assist clients around the World receiving UK TV via the internet using many different technologies.
With lots of overnight TV experts popping up online it is important to choose a supplier that has qualified and reputable experience with both technical and and practical experince rather than some bozo that was selling villas last week and is now selling IPTV solutions.
We have had many clients contact us after being sold shoddy equipment and next to no after care or support. It appears that the majority of these newly set up suppliers is to trade off a Facebook page and a pay as you go mobile phone so that when they start to get too many complaints they simply walk away.

"Our supplier will not answer the phone or answer e-mail and we have lost lots of channels" This is a common problem!

We started our Business in 2002 and it has taken us many years to establish our name in the ex pat community as a genuine and trusted installer and supplier by providing an excellent service at all times to all of our clients.
We guarantee to provide the best possible solution for your Television needs regardless of your location.
Choose a Company that can deliver
Choose
www.mrskytv.com
Contact us today -
info@mrskytv.com
The best UK IPTV solution is currently the MAG250 and MAG254 UKIPTV boxes, the new MAG254W1 has WIFI built in and we had the first batch of boxes for delivery in UAE. With dedicated servers and with guaranteed up time using a IPTV box for UKTV in UAE is a great cost effective solution.
tage : watch uktv uae, ukiptv uae, abu dhabi iptv, mag250, mag254, mag254w1, dubai, united arab emirates